"Arrival" Statuette
Williamstown, Ontario
"Arrival, United Empire Loyalists 1782" is a small bronze statuette created and donated to St. Andrew's United Church in Williamstown by the celebrated equestrian sculptor, Ralph Sketch.
In the artists' words, the 1/4 life-size bronze "is of a kneeling and praying UEL – he is at the corner peg of his new land, his horse is grazing beside him." Sketch asked that the sculpture be mounted facing "away," more or less, in a westerly direction to carry out the "vanguard of a nation" idea. Ralph Sketch also expressed his wish that the sculpture "be displayed in conjunction with the very thoughtful bronze plaque on the church gatepost." Tread softly, stranger, Reverently draw near, The vanguard of a nation slumbers here. The quotation was taken from the first two lines of the poem "Epitaph on an Early Settler" by Hernward R. Cockin, a Canadian poet.
The bronze sculpture is 10″ wide at the base by 19.5″ long and 17″ high. It has been placed on a limestone base and a pedestal of fieldstone measuring 12.5″ wide, 22″ long and 38″ high. The plinth also has a brass plate which reads, "Arrival" United Empire Loyalist 1782, Ralph M. Sketch Sc 1988.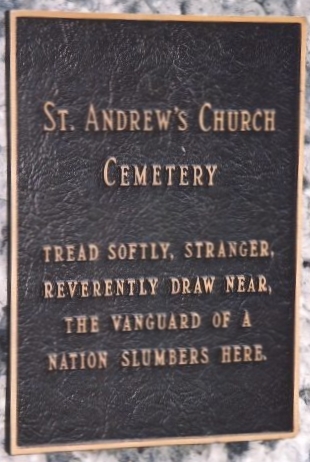 Sketch commemorated other Canadian heroes such as Alexander Mackenzie, Simon Fraser, and Col. Charles Michel de Salaberry. Further personal information can be found in the April/May 1987 publication of Canadian Geographic Vol. 107 # 2 and The Pender Post, Vol. 23, No. 272. November 1993, p.15-16.
Thanks to Doris Ferguson and Carol Edwards for additional details.