Loyalist Trophies
DCRA Loyalist and Ranger Cups
Deed
The DCRA Loyalist and Ranger Cups, for long range black powder competition at the annual prize meeting, were donated in 1975 and 1977 respectively by Major Don Holmes, a DCRA, ORA and NDHQRA Life Member, former Association Director, and former Commanding Officer, The Second Ottawa Field Battery.
Background
In 1967, Canada's centennial year, Major Allan Coulter, O.B.D., a Life Governor of the Association, urged, organized and inaugurated a revived DCRA Black Powder Program. It continued as essentially a two match, one hundred yard activity under RCMP S/Sgt Wilf Black until 1975, when Major Holmes became Black Powder director. By 1979 black powder events were being successfully fired to a full 900 meters, the longest distance available at Connaught.
Awarded to individual winners until 1981, the Loyalist and Ranger Cups have since been awarded as affiliated association team aggregate trophies; the Loyalist Cup as a short range 400 and 600 yard black powder team aggregate and the Ranger Cup as a long range 700, and 900 meter (800 & 1,000 yard metric equivalent) black powder team aggregate. In 1982, on the occasion of DCRA's one-hundredth Annual Prize Meeting, the Ranger Cup was offered as an international black powder challenge trophy and was successfully defended by a seven member Canadian team captained by Major Holmes against a seven member American black powder team captained by U.S. 1982 Palma Team captain and NRA Director, Creighton Audette, a 62 year old lifelong Vermont gunsmith who himself on that occasion fired the highest 700 meter score yet in revived DCRA Black Powder Competition, 47/50. He used a .45/70 calibre rifle.
The Loyalist Cup
Deed
Presented in 1975 by Major Donald C. Holmes, BA DPA VE CD, a DCRA and NRA Life member, DCRA Director and former Commanding Officer of The Second Ottawa Battery, RCA – The Bytown Gunners, Volunteer Militia Unit raised in Canada on September 27th, 1855. For Long Range Black Powder competition.
Description
The Cup is a Birks best quality London Plate wine cooler executed in Ottawa, Canada by third generation Birks engraver Alan D. Payne. The cup carries three full panels of engraving one of which is "FOR LONG RANGE BLACK POWDER COMPETITION AT THE DOMINION OF CANADA RIFLE ASSOCIATION ANNUAL PRIZE MEETING"' the second panel reads "Those Loyalists who have joined the Royal Standard before the Treaty of Separation in the year 1783, and all their descendants, by either sex, are to be distinguished by the following Capitals affixed to their names U.E."; the third panel carries the presentation detail. The cup measures approximately 300 mm high and 200 mm in diameter across the top.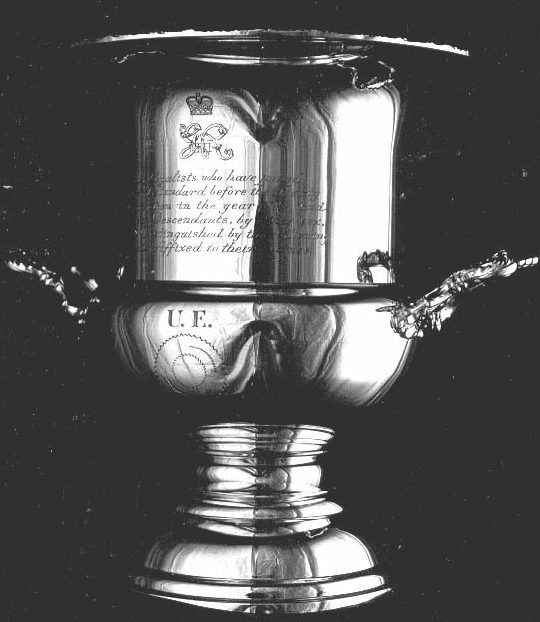 Partial record of winners of the Loyalist Cup
1975- D.C. Holmes, DCRA
1976 -Verner Pedersen, NDHQ RA
1977- D.C. Holmes, NDHQ RA
1978- T.R. Girodat, DCRA
1979- E.L. Warner, PQRA
1980- J.C. Theriault, PQ
1981- NDHQ RA – Changed to team match
From the Loyalist Gazette 1975 Fall Supplement:
The Loyalist Cup

The Dominion of Canada Rifle Association, established in 1868 and incorporated by Act of Parliament 63-64 VICTORIA, Chapter 99, sponsored on Sunday, August 10, 1975, at the Connaught Ranges near Ottawa, an all=-day program of historically authentic old fashioned black powder rifle matches.

Authentic 1868 Gold, Silver and Bronze medals will be offered for the first, second and third place winners in each of four main events, and a large silver challenge trophy, THE LOYALIST CUP, was won by the highest aggregate scorer in the two most difficult matches.

THE LOYALIST CUP was donated by a former commanding officer of the Second Ottawa Field Battery, the original Bytown Gunners, a volunteer militia unit raised in Bytown, Canada West, on September 27th, 1855, and commemorates the Canadian Loyalist heritage. Engraved on the trophy under the Royal Cipher of George III is a portion of the Proclamation of 1789 bestowing the title "U.E." on registered Loyalists and their descendants in perpetuity. IN the words of the April 1975 issue of the American National Geographic Magazine, this was a totally unique distinction, and the only hereditary title of honour ever legislated in Canada.

Members of the Fort Henry Guard were present and competing in uniform at the Black Powder matches. Large numbers of competitors and spectators came dressed in buckskins and other frontier period attire, and, as can be imagined, there are abundant photographic opportunities taken advantage of during the day's festivities. There was no charge for admission and spectators were cordially welcomed at any time throughout the day.

The matches commenced at 9 a.m. with the traditional Snider Match, fired at a range of 100 yards. The Snider-Enfield rifle was the first breechloader in Canadian service, and is still in use by the Fort Henry Guard. This popular match normally attracts the largest number of entries of all the D.C.R.A. Black Powder Matches.

At 11 a.m. the Muzzle Loader Match began. Muzzle loaders are typical of the pre-Confederation frontier period, and are generally loaded with a tight fitting round lead ball wrapped in a lubricated linen or buckskin patch. Long, octagon-barrelled "Pennsylvania-Kentucky" rifles are capable of astonishing accuracy n the hands of experienced marksmen. The families of many of the Swiss, German and Huguenot "Pennsylvania Dutch" craftsman who evolved this classic rifle design were among the Loyalists who came to Canada during and after the American Revolution.

At 2 p.m. THE LOYALIST CUP series began with the Black Powder Open, followed by the Long Range Black Powder Match (fired at a distance of approximately 1/8 mile). Here, the emphasis is on the ultimate in long range accuracy. Any breech or muzzle loading black powder rifle may be used, and many fine old target and buffalo rifles may be seen in action, exactly as they were used a century and more ago.

Family, friends and camera came to savour this day from the pages of history. We in the Ottawa Valley are fortunate to be able to enjoy, close at hand, events such as this, and such superb historic sites as Upper Canada Village and Old Fort Henry. No family interested in Canadian history and our cultural heritage should miss visiting any of the three.

by Donald C. Holmes, an Ottawa U.E.L. member.
Dedication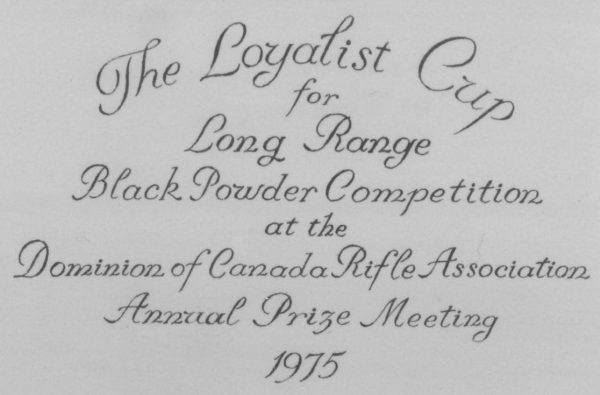 Deed
Presented in 1977 by Major Donald C. Holmes, BA DPA VE CD, a DCRA and NRA Life member, DCRA Director and former Commanding Officer of The Second Ottawa Battery, RCA – The Bytown Gunners, Volunteer Militia Unit raised in Canada on September 27th, 1855. For Long Range Black Powder competition.
Description
The Cup is a Birks best quality London Plate wine cooler executed in Ottawa, Canada by third generation Birks engraver Alan D. Payne. Engraved on the Ranger Cup are the many campaign successes of Butler's Rangers*, forest wise Loyalist riflemen based at Niagara who dominated the long north-western frontier from Montreal to the Great Falls on the Ohio throughout the Revolutionary War. The cup is approximately 300 mm (12″) high and 300 mm (12″) in diameter.
Inscribed on the cup:
Presented by
Major Donald C Holmes, B.A., D.P.A., U.E., C.D
A DCRA and NRA Life Member,
Member of the Association Council,
and direct blood descendant of
no fewer than five Butlers Rangers:
John Hainer, Jacob Dittrick,
William Pickard, Nicholas Smith and William May.

Butler's Rangers comprised ten picked companies of Hudson and Mohawk river valley frontier riflemen, most of whose families had come to the New World in the 1600s during the Dutch regime, or with the great Palatine emigration of 1709. Operating in small parties over hundreds of miles with their Indian allies, they completely dominated the long north-western frontier from the St. Lawrence to the Ohio as far south as Louisville, Kentucky, and raided with devastating effect deep into Pennsylvania, New Jersey and New York throughout the entire duration of the Revolutionary War. Nowhere in America were the King's Arms more successfully employed or faithfully served.

ORISKANY
WYOMING
GERMAN FLATS
CHERRY VALLEY
SUSQUEHANNA
MOHAWK VALLEY
FORT HUNTER
SANDUSKY
FORT PITT
OHIO RIVER
BOONESBORO
BRYANT'S STATION
BLUE LICKS
WHEELING

Butler's Rangers
1777 – 1784

Fear God – Honour the King
Ed. Note: See "Butler's Rangers" by Donald C. Holmes.pgs 8,9-Vol. XV No.1 the Loyalist Gazette, Spring 1977.
Partial record of winners of the Ranger Cup
1977- Randy Oates, BCRA
1978- Maj D.C. Holmes
1979-Maj E.L. Warner
1980-Maj E.L. Warner
1981-NDHQ RA J. Adams, D. Holmes, V. Pedersen – Changed to team
Dedication
The dedication appears below: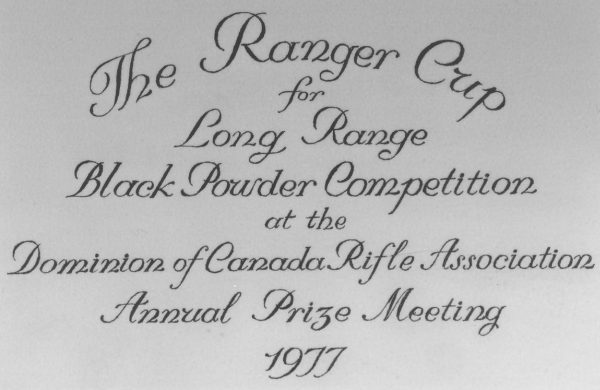 The United Empire Trophy
Deed
Presented in 1913 by Lieutenant Colonel W. Hamilton Merritt of St. Catharines, Ontario in memory of the United Empire Loyalists who fell in the War of 1812-14. For competition by teams of four cadets from any province of Canada belonging to a corps which competed in the Home Series competitions of the year.
First won by Ottawa Collegiate the competition was not run again until 1920. In 1977, the competition was re-designated to team of two Cadets; 1 Canadian and 1 Atheling chosen randomly by DCRA. (Athelings (from the old english aetheling meaning Prince or Lord), is the title given to UK Cadets, aged under 19 years, who have been successful in the sport of target rifle shooting and represent Great Britain in the Dominion of Canada Rifle Association Matches)
Description
A bronze statue of a young man holding a sword in his hands and standing over the grounded sheath. The statue stands 900 mm high including the bronze block under the feet of the young man. The block measures 230 mm x 235 mm. The trophy stands on a plain square wooden base 155 mm high by 265 mm square bearing two brass plates listing the battles of 1812 to 1814 where United Empire Loyalists were involved.
Partial record of winners of the United Empire Trophy
1913- Ottawa Collegiate Institute
1914-1919 – No Competitions
1920- Ottawa Collegiate Institute
1921- Hamilton Collegiate Institute
… This trophy continues to be awarded annually
Acknowledgements
UELAC is appreciative of the assistance given by the Dominion of Canada Rifle Association in documenting the history and description of the following three trophies.