Annual Community Parades Project 2012
Edmonton Branch
The Edmonton Branch took part in three community parades in 2012. A Dominion grant of $500 was used to buy two magnetic signs for the vehicle, gasoline, and bookmarks for distribution along the route.
A banner on each side of the truck identified us as the Edmonton Branch of the United Empire Loyalists. "The Loyalists, because they were loyal, we are Canadian" was proclaimed on each door, and "Raising Awareness of Loyalist History" was displayed on the back of the truck. The UEL flag flew proudly beside the sixtieth anniversary flag of Queen Elizabeth II that was donated by former MLA and Edmonton Branch supporter, Hugh McDonald. Walkers carried flags or handed out bookmarks.
Branch members and friends either rode in the back of the truck or walked the route, everyone wearing a version of historical dress. While not strictly historically accurate, we aim for clothing that is safe, comfortable, and practical, while giving the impression of 18th century apparel.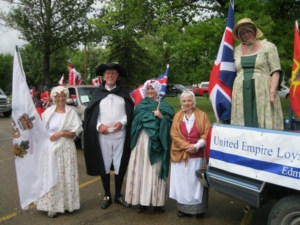 Clear blue skies and bright sunshine welcomed us to the St. Albert Rainmaker Parade on Saturday, May 26. Eleven people participated, including two children. The Fort Saskatchewan Parade took place on Canada Day. This time a cloudburst held up proceedings, and two of the eight participants were not able to stay due to the late start. The last parade was on July 28 in the town of Legal, originally a French settlement. This was a shorter parade, for which ten people dressed up and walk or rode the route.