Where in the World are the members of the UELAC in 2013?
For the most recent submissions, visit the the main "Where In The World … ?" page.
2013 Submissions
Round the (c)old oak tree – Brr!
Where are Gerry and Pat Adair (of Saskatchewan Branch) and Joyce Lidster and Barb Andrew (of Manitoba Branch)?
Photo taken October 5, 2013 at the Bur Oak tree planted by members of the Edmonton and Calgary Branch to commemorate the visit of Her Majesty Queen Elizabeth II in 2005 and celebrate Alberta's 100th anniversary as a province. In the photo are Gerry Adair, Saskatchewan Branch (Prairie Region Vice-President); Pat Adair, Secretary, Saskatchewan Branch; Joyce Lidster, Manitoba Branch (Prairie Region Councillor & Membership Chair); and Barb Andrew, Manitoba Branch (Senior Vice-President UELAC).
---
Tea at Four and Twenty
Where are Victoria Branch members Karen Borden and Catherine Fryer?
OGS Irish Palatine SIG Tour in Ontario, September 2013. The tour was invited to tea at 24 Sussex Drive by Laureen Harper, an Irish Palatine descendent.
---
File under 'F'
Where is Fred Hayward? — For a major hint, see Fred's article in Loyalist Trails 2013-#40.
Photo taken at the new City of Ottawa Archives.
---
And lo, many games were plaid
Where is Governor Simcoe Branch member and UELAC secretary Jo Ann Tuskin?
Jo Ann Tuskin at Grandfather Mountain Highland Games, near Banner Elk, NC. which she attended for personal interest and as a member of the executive of both the Clans And Scottish Societies Of Canada (CASSOC) and The Clan Munro Association of Canada.
---
Guarding the Peace
Where is Manitoba Branch member Barb Andrew?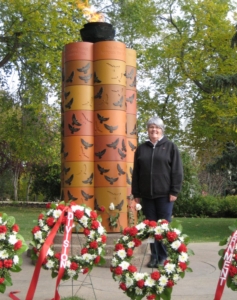 Here is another photo from the Prairie Regional Conference (October 4 – 6, 2013). The location is the Police and Peace Officers' Memorial (2006), Alberta Legislature Grounds, Edmonton. The memorial honours officers who have died in the line of duty.
---
No Short Shrift
Where is Bicentennial Branch past president Margie Luffman, UE, with husband Mark?
The Port of Kingsville during the Tall Ships 1812 tour, August 30 – September 1, 2013. Windsor-Essex Pelee Island was the final destination of the Pan-Provincial Tall Ships 1812 tour commemorating the bicentennial of the War of 1812.
---
Window to the West
Where is Calgary Branch member Kerry Best?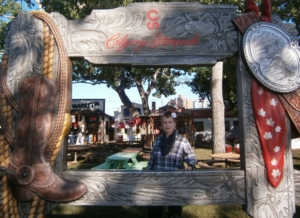 I went to the Stampede on Western Heritage Day (Senior's day) which was Tuesday, July 9, 2013.
I am wearing a fascinator that we handmade at a Tea Party by invitation about a week earlier. You can see Kerry-Stampede-no3.jpg" target="_blank">the little white cowboy hat on it. It is glued and tied together with a headband. One of a kind. – Kerry Best, UE
---
Mary's Villekulla
Where are Calgary Branch members David Hongisto (President), Barbara Hongisto (Secretary), and Linda McClelland (Project Manager), with UELAC President Bonnie Schepers?
Picture taken at Villa Maria Country Inn, Edmonton, Alberta, during the Prairie Regional Conference (October 4 – 6, 2013).
---
N.B. (Nota bene): We're proud
Where is Atlantic Region Vice-President Jim McKenzie, UE?
Jim is showing the Loyalist banner from the OVER 50s EXPO on Sept 21, 2013, in Digby, NS.
---
So far, eh?
Where is Barbara Law, UE, President of the Col. Edward Jessup Branch?
This past February my husband and I went on a photo safari to Kenya and Tanzania, Africa. We had a great time and were able to successfully cross another country off our bucket list. I have enclosed a photo of me standing in the vehicle that we traveled in, looking at the elephants. You are not allowed to get out of the vehicles when you are among the wild animals. Most of the time we only saw 5 or 10 elephants at a time. Then other times there would be 100 or more in a herd. It was absolutely amazing. – Barbara
---
The Eldest House
Where is Bob McBride?
At Eldon House, London's oldest remaining house, built in 1834 by Capt. John Harris, R.N., treasurer of the London District. See also a close-up of the plaque, below:
---
Awhair's Athair?
Where are Barbara Hongisto, UE, and David Hongisto, UE, of Calgary Branch?
Barbara and David are at the farm of Pat and Gerry Adair in Saskatchewan, on the way home following the 2013 Conference in Burlington.
---
Little Beginnings (Certified)
Where is Donna Barraclough-Little with her kids, Kevin and Kirra?
This photo shows me and my kids at the Royal Vancouver Yacht Club, 13 Oct 2012, getting our certificates. All members of the the Vancouver Branch – plus two past presidents of Vancouver Branch & Dominion. – Donna Barraclough-Little, UE
---
Wick On, Wick Off
Where is Gov. Simcoe branch member Sandy McNamara?
Clues:
• The first clue is the farm house door (and the title above the photo is a hint too).
• The second clue is that it survived Hurricane Sandy.
• Third clue: it is the oldest structure in a famous city.
If you give up, highlight the answer below.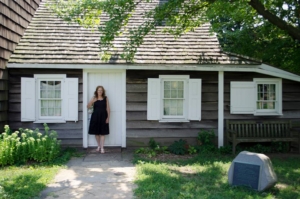 Sandy visited the Wyckoff House Museum (www.wyckoffmuseum.org) in Brooklyn, NY. In April of 1637, Pieter Claesen landed in New Netherland. After six years as an indentured farm hand, Pieter became a tenant farmer and married Dutch Grietje van Nes. Under the English, took the surname Wykhoff for a family which would number eleven. They moved south to New Amsterdam – now the borough of Brooklyn – and acquired a farm with a simple one-room house. The house, much remodelled over the years, stands today. The Wyckhoff family occupied the house until 1901; it was restored in 1982 and opened as a museum. The Wyckoff surname (many spellings) is unique and most people of this name in Canada and America trace their roots to Pieter and Grietje.
---
Our Monumental Day
Where is Hamilton Branch past president Ruth Nicholson?
This is me, Ruth Nicholson, past president of the Hamilton Branch UELAC with my 2 grandchildren, Owen & Claire at the Hamilton Loyalist monument on Loyalist Day, June 19th. Claire, age 2 and Owen, age 12 were our young Loyalist rep's at our Loyalist Day ceremony this year. Those who attended the Dominion conference this yr and went to the church service will recognize this location as we stopped for a photo op.
---
Blast from the Past
Where are the UELAC members below and what is notable about the group?
The photo shows (hint!) Bonnie Schepers, UE; Robert Tordiff, UE; Ken Fitchett, UE; Arnold Nethercott, UE; incoming branch president Jennifer Childs; and (seated left to right) June Klassen, UE; Jean Norry, UE; and Bernice Flett, UE.
This is another picture from our London & Western Ontario Branch 40th Anniversary luncheon. It shows the past presidents of the branch gathered together with Dominion President Bonnie Schepers. A few of the branch presidents (Arnold Nethercott and Bernice Flett) have also served as Dominion president.
---
Brock On
Where are Bob and Grietje McBride?
At Brock's monument in Brockville on a Friday evening just before the sun set.
---
You can drink once you grasp the art
Where is Bicentennial Branch member Albert Schepers?
Albert Schepers at the Rijksmuseum in Amsterdam, Netherlands, with a 1623 painting by Gerard van Honthorst.
---
No bailing on baling
Where is Maggie Stubbs, UE?
The picture was taken Easter Weekend 2013 at Hay Bay Church on South Shore Road, Hay Bay, Lennox and Addington County, Napanee, Ontario. Built in 1792, it is the oldest Methodist building in Canada and the second oldest church in Ontario.
---
Columnar Capitals, Colonial Capitols
Where is UELAC President Bonnie Schepers?
This photo was taken on July 2, 2013, in Colonial Williamsburg, Virginia at the Capitol Building, with one of the history interpreters there. The Capitol at Williamsburg housed the legislature of the Colony of Virginia from 1705 until 1779, when the capital was relocated to Richmond. The first Capitol building 1701-05 was reconstructed in 1931-34 and is today a centerpiece of Colonial Williamsburg and a notable work of Colonial Revival architecture.
---
Home in stead, or home instead?
Where is David Hill Morrison?
David Hill Morrison is standing on the steps of the Joseph Brant Museum, in Burlington, ON. Built to commemorate Joseph Brant 'Thayendanegea' (1742-1807), the museum is a replica of his original homestead. This photo was taken during the June 2013 Conference. David Hill Morrison is a descendant of Joseph Brant. It officially opened 1942.
---
Let them eat cake!
Where is past Dominion president Bernice Flett (with a delicious cake)?
On Saturday, May 25, 2013, the London and Western Ontario Branch held its 40th anniversary luncheon. Bernice is preparing to cut the anniversary cake.
---
_alt of the Earth
Where is Bob McBride?
In downtown Galt on Friday, April 12, 2013.
---
Room to Grow
Where is Bicentennial Branch member Albert Schepers?
Bicentennial Branch member Albert Schepers in Grou (Dutch: Grouw), a town in Boarnsterhim, in the province Friesland of the Netherlands. Albert is in the Netherlands researching and celebrating the history of his great grandfather, poet and artist JB Schepers 1865 – 1937. The photo was taken May 11, 2013, in front of Hotel Oostergoo, a 158-year-old hotel in Grou.
---
Now UE're one of us
Where are Bonnie Schepers and MP Edwin Holder? (Bonus point: And what is transpiring?)
On Saturday, May 25, 2013, the London and Western Ontario Branch held its 40th anniversary luncheon,
where we were happy to present our local MP, Edwin Holder, with his UE certificate. The picture is of incoming Dominion President Bonnie Schepers with Ed Holder, MP for London West.
---
Our Very Own Chunnel
Where are Bob and Grietje McBride?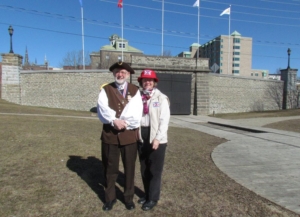 At the Brockville Railway Tunnel – Canada's first railway tunnel. It is located beneath the city of Brockville, Ontario, and passes under Brockville City Hall to the north.
---
Reach for the Magazine
Where in the world is New Brunswick member Malcolm Newman distributing back copies of the Loyalist Gazette?
The 400-year-old King and Queen pub in East Malling, Kent, is not too far from the famous Biggin Hill airfield. This was at the the annual memorial to the Battle of Britain. Part of the contribution to that event was the "Canadian" 242 Squadron – which was commanded by no less a figure than Douglas Bader, whose biography is the subject of the 1956 film Reach for the Sky. Fred Hayward supplied the back copies of the Gazette.
---
Swallowed by Scenery
Where are Doug Grant and Nancy Conn?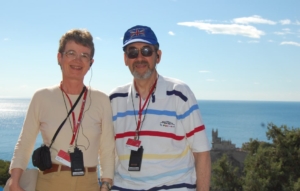 The view south over the Black Sea from a hill near Yalta, Crimea, Ukraine. The small Neo-Gothic castle beside Doug's elbow is the Swallow's Nest, built in 1911 – a tourist site, and now a restaurant, it has been featured in several films.
---
No Place to be Punny
Where is Bob McBride?
At the Middlesex County Court House, London, Ontario. See also Bob-Middlesex-plaque.jpg" target="_blank">a close-up of the plaque.
---
Views All Round
Where is past president Doug Grant?
At the Panorama, in Sevastopol, the port on the Crimean peninsula, Ukraine. Inside, the 360-degree panorama (a painted background and model foreground which you view from the centre) depicts one day of the battle during the Crimean War: the siege of Sevastopol in 1855
---
Along for the Ride(au)
Where are Grietje and Bob, with Roy Lewis and his wife, Helen?
At Rideau Hall to celebrate Diamond Jubilee Medals presentations (February 6, 2012)
---
Colonel John's quarters?
Where are Bob McBride and his tour group?
In the Butler's Room, George Brown House, Toronto, Ontario
---
Crew's all here
Where are (L-R) Grietje and Bob McBride, Frank Lucas, Joan Lucas, Doreen Thompson and Shirley Lowes?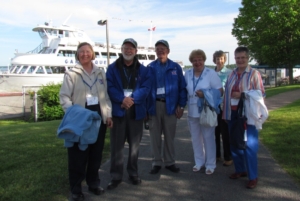 Boarding the 1000 Islands cruise ship for dinner in Brockville, Ontario (June 2011)
---
She arrived via sky-dive
Where is Edmonton Branch member Marilyn Astle?
"Here is a picture of me taken on Sunday in Lisbon, Portugal in the gorgeous cloisters of the Jeronimos Monastery, a UNESCO World Heritage Site." – Marilyn (March, 2013)   [the caption refers to the exclamation "Geronimo"]
---
Nowhere near petering out
Where are Grietje and Bob McBride?
Bob and Grietje, with granddaughter Laura, in front of Peterborough City Hall – Loyalist Day, June 19, 2012
---
Twinkle, twinkle, little … toe?
Where is Colonel John Butler Branch member Rod Craig?
the Dunnville Airport, 3 July 2010
More details:
The Airport is known as No. 6 RCAF Dunnville Museum, "Home of the Yale and the Harvard"; it was a training centre during the Second World War. Many pilots learned to fly Yales and Harvards at this airport before being sent overseas.
Each summer the Museum holds and open house and invites local historical groups, and ancestral groups to promote their group to the public inside the hanger. Outside on display are vintage Yale and Harvard aircraft and several other type of airplanes. As well many classic and vintage cars and antique farm equipment are on display. This is a way for the Museum to raise needed funds and attract interest in the Museum.
Colonel John Butler Branch has attended this event for several years. (Anyone who has a connection to the Dunnville area or is interested in vintage planes should consider attending this event.) At the end of the day the Museum holds a chicken BBQ and dance. 'Twinkle toes' was practicing for that evening's dance when I took his picture. – Gord Dandy
(Submitted by Gord Dandy, Welland, Ont)
---
Jubilant, one and all
Where Little Forks Branch members Milt and Bev Loomis?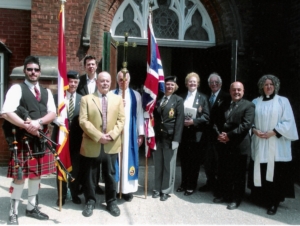 Monarchist service held at St. George's Anglican Church, Lennoxville, for the Queen's Diamond Jubilee, May 2012
More details:   The Monarchist League of Canada, Quebec Chapter celebrated the 60th Anniversary of the accession to the throne by Her Majesty Queen Elizabeth the 2nd, with an ecumenical service of thanksgiving followed by an "English style" tea. The celebration was held at Saint George's Anglican Church, in the borough of Lennoxville,Sherbrooke, Quebec on the 26th of May 2012.
The worship service was presided over by the Reverend Wanda Dillabough with the assistance of the Rector`s Warden and Lay Reader Roy Stinson. Leslie Young,organist, played the music for the "Jubilee Hymn" which was created and approved for the occasion by the Church of England. Following the cross, the colour party from the Canadian Legion, Sherbrooke Branch #10 processed with the Legion flag and the Union Jack, followed by Mr. Etienne Boisvert of the Monarchist League of Quebec and President Bev along with her husband Milt Loomis representing Little Forks Branch of the United Empire Loyalists' Association of Canada. Not only were Monarchist and Loyalist in attendance but many community admirers of Queen Elizabeth (French and English) also attended the service and tea where they enjoyed music by piper Matthew Fowler.
(Written by Roy Stinson and submitted by Beverly Loomis)
---
Ensemble Assembled
Where is Bob McBride?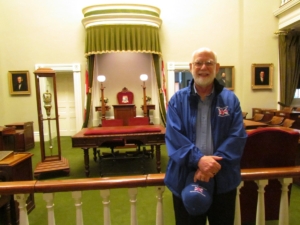 At the Legislative Assembly, Charlottetown, Prince Edward Island.
---
News Muse
Where is Jennifer Childs?
In Simcoe visiting the Eva Brook Donly Museum (January 2013).
---
Fighting the breeze
Where is Grietje McBride?
At the site of the Battle of the Windmill at the AGM and Conference in Brockville, Ontario (June 2011).
---
Silent Letters
Where is Bob McBride?
At the Old(e) Burying Ground in Halifax, Nova Scotia.
---
Ready and wading
Where are Noreen Stapley and Rod Craig?
the Reversing Falls, Saint John, N.B., 2008 UELAC Conference
---
De Où?
Where is Nancy Conn?
visiting DeCou House monument in the Niagara Peninsula on a July 2012 bus trip to War of 1812 sites
---
For him the bell tolls
Where is past president Doug Grant?
Church of Vladimir the Baptizer, Sebastopol, Ukraine
---
Paying respect
Where is Victoria Branch member Karen Borden?
Empey Hill Cemetery, L and A County, Ontario (2009)
---
Feeling festive
Where is UELAC public relations head Fred H. Hayward?
The Stratford Festival Theatre (summer 2012)
---
Maybe she's thirsty
Where is London & Western Ontario Branch president June Klassen?
The original Labatt Brewery
---
Showing his true colours
Where is Robert Tordiff?
The monument along Loyalist Lane, at Fanshawe Pioneer Village in London, for Doors Open (Sept. 30, 2012)
---
A less-than-stoney gaze
Where is Loretta Burke?
Mount Rushmore — near Keystone, South Dakota, United States
---
Our first exciting pose
Where is past president Doug Grant?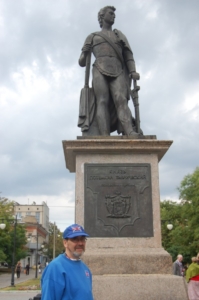 ---
That's all, folks!
You've reached the end of the WITW archive. For the latest submissions, visit the the main "Where In The World … ?" page.