Where in the World are the members of the UELAC?
Where in the world are YOU?? With your help, we hope to find out! Take a travel photo of yourself – it would be great if you were wearing UELAC gear, but not mandatory – and we'll feature it online and in an upcoming issue of Loyalist Trails.
First, put yourself in the picture with UELAC Promotional gear. Then, provide a short description of your surroundings – historical relevance is great, but not obligatory – and send your photo and description to Loyalist.Trails@uelac.org so we we can add you to our gallery below.
In the meantime, browse our recent submissions below and see if you recognize the people, the places, or both. Click any photo for a larger resolution. Mouse and click the space between the square brackets to reveal the description. For more, visit the archive of older entries on the legacy Dominion website.
Latest Submissions
Prairie Persons
Where are Ivy Trumpour UE and Susanne Davidson UE, of Calgary Branch?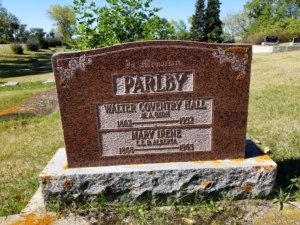 At Alix, Alberta, there is a museum and cemetery. Irene Parlby lived in the area. She is known for her participation in the "Persons Case" as one of the Famous Five who signed the petition to the Supreme Court, although the movement was led by Emily Murphy. Mrs. Parlby's greater accomplishments were being elected to the Alberta Legislature, and becoming the second woman in the British Empire appointed to a cabinet position. In this capacity she was a delegate to the International Council of Women in Washington DC, and investigated education and co-operatives in Scandinavia and Britain. She was one of three Canadian delegates to the League of Nations (forerunner of the United Nations) in Geneva. Irene Parlby came from England to Canada at the invitation of her friend Alix Westhead. It was a few years after they settled there that Sir William Van Horne named the village Alix. Irene's parents are Elizabeth and Ernest Lindsay Marryat. He was a Lt. Col. in the Royal Engineers and built railways in India and Egypt before retiring to Canada and taking up farming after Irene was already settled here.
---
'JGO': Just Got One!
Where is James Oborne, UE, of New Brunswick Branch?
James of Winnipeg is proudly showing off his personalized Manitoba licence plates. The JGO are his initials, James Gove Oborne. The temperature was -6C outside but there was no wind. He is wearing his 78th Fraser Highlander hat for which he is an Honorary Lt.Col. James descended from Capt. Samuel Tilley.
---