Where in the World are the members of the UELAC?
Where in the world are YOU?? With your help, we hope to find out! Take a travel photo of yourself – it would be great if you were wearing UELAC gear, but not mandatory – and we'll feature it online and in an upcoming issue of Loyalist Trails.
First, put yourself in the picture with UELAC Promotional gear. Then, provide a short description of your surroundings – historical relevance is great, but not obligatory – and send your photo and description to Loyalist.Trails@uelac.org so we we can add you to our gallery below.
In the meantime, browse our recent submissions below and see if you recognize the people, the places, or both. Click any photo for a larger resolution. Mouse and click the space between the square brackets to reveal the description. For more, visit the archive of older entries on the legacy Dominion website.
Latest Submissions
The Big House
Where is Rick Wood, UE, of Edmonton Branch?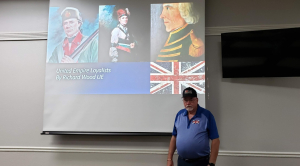 Rick is delivering a presentation on the United Empire Loyalists to the Palm Creek Genealogy Club in Casa Grande, Arizona, where he and his wife have been spending their winters since 2008. After discussing the Loyalists in the context of the American Revolutionary War, he went through the UELAC certificate application process using his own certificates (for Jonas Wood Sr. and Jonas Wood Jr.). One of the attendees was a descendent of Capt. Jonathan Williams.
---
Perpetual Light
Where is Malcolm Newman, UE, of New Brunswick Branch?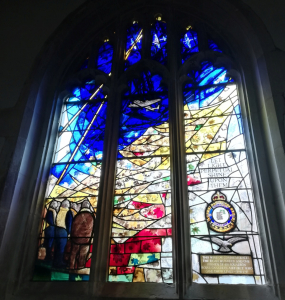 Malcolm is at one of the last post mills (an early type of windmill) in the UK, in a village in Cambridgeshire called Great Gransden which, together with the adjacent village of Little Gransden, was home to the RCAF 405 squadron for part of WWII. The post mill underwent renovation a few years ago and there is still more to complete. In front of Malcolm is a small memorial stone to 405 which on Jan. 1st was still adorned with a Remembrance Day wreath.
The local church features stained glass windows that are a memorial to those who gave their lives, with the words (visible in photo #2) "Let perpetual light shine upon them" followed by the squadron emblem and the text "This window commemorates the eight hundred and one airmen of 405 Squadron Royal Canadian Air Force who gave their lives 1941-1945"
The squadron's war and peacetime duties are described here (folks from Saint John, NB, will notice an obvious typo). It would be interesting to know if any members, or LT readers, have any connections to that squadron.
---
The Best Toast You Can't Eat
Where is James Gove Oborne, UE, of New Brunswick Branch?
At the 150th St Andrew's Society Annual Dinner, on Saturday, Nov. 27, 2021, I gave the Toast to the Queen. The audience included 200 people, plus many more in Canada and Scotland via Zoom. I was in the uniform of an Officer of the 78th Fraser Highlanders, 1500 men and Wolfe's largest regiment at Louisburg in 1758 and 1759 at Quebec. I noted that five of my family names left Long Island in 1783 in favour of New Brunswick and that one of their descendants, Sir Samuel Leonard Tilley, cousin to my Dr Samuel Tilley Gove and Father of Confederation, went to see the Queen's ancestor to present the Articles of Confederation around 1867.
---
Prairie Persons
Where are Ivy Trumpour, UE, and Susanne Davidson, UE, of Calgary Branch?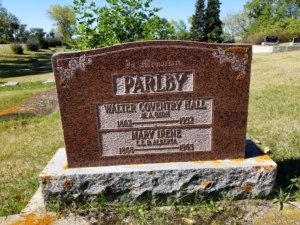 At Alix, Alberta, there is a museum and cemetery. Irene Parlby lived in the area. She is known for her participation in the "Persons Case" as one of the Famous Five who signed the petition to the Supreme Court, although the movement was led by Emily Murphy. Mrs. Parlby's greater accomplishments were being elected to the Alberta Legislature, and becoming the second woman in the British Empire appointed to a cabinet position. In this capacity she was a delegate to the International Council of Women in Washington DC, and investigated education and co-operatives in Scandinavia and Britain. She was one of three Canadian delegates to the League of Nations (forerunner of the United Nations) in Geneva. Irene Parlby came from England to Canada at the invitation of her friend Alix Westhead. It was a few years after they settled there that Sir William Van Horne named the village Alix. Irene's parents are Elizabeth and Ernest Lindsay Marryat. He was a Lt. Col. in the Royal Engineers and built railways in India and Egypt before retiring to Canada and taking up farming after Irene was already settled here.
---
'JGO': Just Got One!
Where is James Oborne, UE, of New Brunswick Branch?
James of Winnipeg is proudly showing off his personalized Manitoba licence plates. The JGO are his initials, James Gove Oborne. The temperature was -6C outside but there was no wind. He is wearing his 78th Fraser Highlander hat for which he is an Honorary Lt.Col. James descended from Capt. Samuel Tilley.
---