Where in the World are the members of the UELAC in 2017?
For the most recent submissions, visit the the main "Where In The World … ?" page.
2017 Submissions
Lefthand Sheep
Where is James Diltz, UE?
James Diltz is bearing the UEL flag into the Nova Scotia Branch 2017 spring meeting in Port Mouton, NS, where many of Tarleton's Regiment settled. In background are Marilyn and James McKenzie, UE, RVP and members of the New Brunswick Branch. (Submitted by Carol Harding.)
---
Anglicans Speak Inglis
Where are Nova Scotia Branch members Brian and Ann McConnell?
Brian and Ann visited historic St. Mary's Anglican Church, one of the oldest churches in Nova Scotia, and the second Anglican Church to be consecrated in British North America. This classical Georgian era church was completed in 1790 and consecrated by Bishop Charles Inglis, the first Bishop of Nova Scotia. Inglis lived many years at his estate in Auburn, an area settled by Loyalists in 1784, and was closely involved in the construction process. The Church continues to house an active congregation. The church, cemetery and property are included in a provincial historical designation.
---
Harrison Garrison
Where are Edmonton Branch members Joshua and Skyler Harrison?
Joshua and Skyler are at Garrison Cemetery in Annapolis Royal, Nova Scotia at the monument bench dedicated to black loyalist Rose Fortune. Rose, a Black Loyalist originally from the US, is best-known for her talent as a businesswoman at a time when neither women nor Black persons were encouraged to pursue entrepreneurial opportunities and when the feminist movement in Canada was decades away. Read more in the Canadian Encyclopedia.
---
Upsilon to Epsilon
Where are Gerry and Pat Adair with their five children?
Gerry, Pat and (L-to-R) Robert, Jennifer, Pat, Sandra, Gerald, Karen, and Christina are at the family farm near Maryfield, Saskatchewan, for Thanksgiving. The stained glass which fits so appropriately in their front window was one of the prizes at the silent auction at the UELAC Conference 2017 this past June in London, Ontario. Glad they won the prize.
---
Operation Dumbo Wash
Where are Gov. Simcoe Branch members Doug Grant and Nancy Conn?
While on vacation with a group in Nepal, Nancy and Doug spent a couple of days at a resort in Chitwan, a National Game Park in the south of the country. These elephants have a daily morning bath in the river; this photo op was after the washing. Each elephant has a dedicated minder. The elephants seemed to be well treated. Thankfully the country is working hard to manage this game preserve and the wildlife living there.
---
The 95 Selfies
Where is Gov. Simcoe Branch member Doug Grant?
On October 31, 1517, Martin Luther sent the Ninety-Five Theses or Disputation on the Power of Indulgences to Albert of Brandenburg, the Archbishop of Mainz. This date is now considered the start of the Reformation which profoundly changed Europe. It is commemorated annually as Reformation Day. The theses were posted to the doors of All Saints' Church – where Doug is standing on the 500th anniversary – and other churches in Wittenberg in accordance with University custom. For a week in September, Doug and Nancy followed parts of the Luther Trail, several of the cities where Luther lived and worked.
---
One Glove
Where are Gerry Adair and Barb Andrew of the Prairie Region?
Congratulations to Edmonton Branch on their 30th Anniversary celebrations. On the return journey Gerry (Saskatchewan Branch) and Barb (Assiniboine Branch) stopped in Heisler AB to examine this massive baseball glove – most appropriate in the midst of the major League baseball playoffs.
---
To, Fro, High, Low
Where is Assiniboine Branch member Barb Andrew?
Barb is pictured at the farm of Pat and Gerry Adair in Maryfield, SK, at the annual Saskatchewan Branch picnic on June 19, 2017. Photo submitted by Liz Adair, Assiniboine Branch.
---
Genie-ologist
Where is Vancouver Branch member Carl Stymiest?
Carl Stymiest UE attends the Community Outreach & Education display and seminar at the British Columbia Genealogy Society Workshops in Burnaby, BC (June, 2017).
---
All In The Family
Where is Marilyn Hardsand, UE, surrounded by fellow Hamilton Branch members?
Marilyn Hardsand, UE, gives the background story on her Loyalist ancestor, Peter Gordon, UEL. Michele Lewis, UE, husband John Lewis, and Michele's mom, Rowena Jeffreys, UE, share the same lineage. Karen Farmilo – a descendant of Preserved Cooley, UE – looks on. Location: Cooley-Hatt Cemetery, Ancaster at Loyalist plaquing ceremony to honour Loyalists Peter Gordon and Preserved Cooley (August 12, 2017).
---
Ferriss [On Four] Wheels
Where is Bicentennial Branch member Susan McCloskey Hutchins?
At Susan and husband Robert's home, on the East side of Harrow, ON. This old Loyalist property that goes back to Joseph Ferriss UEL, New Settlement. There is a very small stone building that names the land as Ferriss property. Susan is celebrating a birthday present from her sister Ruth Nicholson of the Ontario UELAC Licence plate. Why "57"? Ruth chose "57" as we were always a Heinz 57 family. Our mother, Alta Ferriss Hutchins worked in the purchasing department of Heinz in the early '40's" in her hometown, Leamington. She married our dad, Edwin Hutchins on Nov. 14, 1949, after harvesting had been completed and that was the end of her Heinz career.
---
Late To The Party
Where is Gov. Simcoe Branch member Nancy Conn?
One of Nancy's ancestors, Claes Cornelissen Van Schouwen, was married here in 1732 in Petruskerk, located in Sloterdijk, a village which is part of Amsterdam. The Church was constructed in the early 17th century.
---
Where The Streets Are Paved With Flags
Where is Nova Scotia Branch member Brian McConnell, UE?
Shelburne is a small town of less than 2,000 residents located in southwestern Nova Scotia. Once for a brief time, immediately after the American Revolution, it was the fourth largest city in North America, after New York, Philadelphia and Charleston. Today it celebrates its Loyalist Roots with an annual Founders' Days event, note the Loyalist Flag on the pavement in front of Brian. Nearby in Birchtown is the Black Loyalist Heritage Centre.
---
History – Preserved
Where is Hamilton Branch member Doug Coppins UE ?
August 12, 2017: Doug Coppins, UE, unveils the Loyalist Cemetery plaque at the Cooley-Hatt Cemetery, Ancaster, to honour Loyalists Peter Gordon UEL and Preserved Cooley UEL.
---
Where No-one Says "Don't Be Long"
Where are Hamilton Branch members Ruth Nicholson & Pat Blackburn?
Ruth & Pat are at Quilt of Belonging, Cotton Factory, Hamilton, Ontario. Ruth and Pat gave a presentation about the Loyalists on July 25, 2017.
---
Marge's, Not Moe's
Where are Peter Johnson and Doug Knutson (dressed as Capt. John W. Meyers, UE)?
On 12 July 2017, in Belleville ON a plaque about Mrs. Simpson's early tavern was unveiled. The occasion also commemorated the 200th anniversary of the adoption of the name "Belleville" (previously Meyer's Creek) for this settlement. Doug Knutson was dressed as Capt. John W. Meyers UE, after whom the village had been named. Peter Johnson UE (President of the Bay of Quinte Branch UELAC) displays the new ruggedized UEL t-shirt. The Hastings County Historical Society was responsible for this event. (People photo courtesy of Windswept Productions; Plaque photo by Peter Johnson.)
---
Saint Thomas the Tank Engine
Where is Jean Rae Baxter, member of Kingston, Hamilton and Bicentennial Branches?
One of the bus tours at the June 2017 UELAC Conference in London was to St. Thomas to visit historic sites. One of these was the Elgin County Railway Museum, housed in locomotive shops that serviced the Canada Southern Railway which ran from New York to Chicago. Jean looks ready to go on another rail trip. (Photo submitted by Linda Drake of Vancouver Branch.)
---
Fine, Feathered Friends
Where is Vancouver Branch member Carl Stymiest?
Carl is at Fort George near Niagara-on-the-Lake attending Re-enactment of the anniversary of the Battle of Fort George during the War of 1812. In this photo he is visiting the Six Nations encampment.
---
Santa's Summer Home
Where is Gov. Simcoe Branch member Nancy Conn?
The Nicolaïkerk in Utrecht, Netherlands was built in the 12th century as a parish church dedicated to St Nicholas. In 1556 and 1579, the church was damaged during the Iconoclastic Fury and fell into Protestant hands, and the layout was changed significantly as a result. Nancy's ancestor Elsken Hendricks was buried here in 1663.
---
Worth Its Plate In Gold
Where are Hamilton Branch members Fred Hayward, UE, and Pat Blackburn, UE?
Fred and Pat are not lost in the mists of time, but are in the photographer's studio in the Spectator (newspaper) building in Hamilton. They were being photographed to add some colour to an article by Jeff Mahoney ("United Empire Loyalists Of All Stripes: The spine of a nation".)
A prop was suggested, so Fred brought his antique UEL Plate that was initially developed by Wedgewood for Stanley Mills of Hamilton. Read more details about this and other Loyalist Commemorative plates.
---
Red, White and Blue All Over
Where are Catherine Fryer and Karen Borden, of Victoria Branch?
Catherine Fryer (L) and Karen Borden (R) helped staff a Loyalist outreach booth at the Victoria (B.C.) Highland Games on May 21st, 2017, helping to increase the awareness and understanding of our Loyalist heritage.
---
Come "C" Canada
Where is Colonel Edward Jessup Branch member Barb Law, UE?
On June 6th the "Canada C 3" ship came to Brockville, Ontario. I was lucky to get free tickets to go to a talk put on by the young people on board the ship. This will be a wonderful experience for these people, mostly native Canadians from all across Canada. Some will be on the ship for the full 150 days, others just for a week or two. They left Toronto on June 1st and made a number of stops before reaching Brockville, stopping along the way visiting schools etc. to talk to the children. They will be stopping in 50 communities around the 3 coasts of Canada before arriving in Victoria, B C at the end of October. If anyone gets a chance to speak with any of the people on board the ship you will be very glad you did.
---
Geometry of Memory
Where are Nancy Cutway, UE, and her husband Steve? Nancy is webmaster and publicity chair for Kingston and District Branch.
Nancy and Steve are at the Memorial to the Murdered Jews of Europe in Berlin. Erected one block from the Brandenburg Gate, and opened to the public on May 10, 2005 (sixty years after the end of World War II), the Memorial consists of 2,711 concrete slabs or "stelae", arranged in a grid pattern on a sloping field. As you enter the array, you are just walking between flat slabs that are as little as 8 inches above ground and begin getting taller. As the ground slopes down, you end up enclosed by 15 foot walls. "At the deepest parts, it feels like you are almost the only person left on earth," reports Nancy, "as all the concrete dampens all sound. Sun hitting the intersections of rows and columns make patterns of light and shadow that look like bars – presumably part of what the architect Peter Eisenman and engineer Buro Happold intended. It's a very moving memorial. There is also an underground 'Place of Information' with records of over three million names."
---
Family 'Heirloon'
Where is Gov. Simcoe Branch member Doug Grant?
This coach house and garden are at the rear of the Van Loon Museum, opened in 1793 and housed in the lower three floors of a canal house at at 672 Keizersgracht, Amsterdam. The upper floors are home to a Van Loon family today. The house was built in 1672 by a wealthy Flemish merchant. It was acquired by the Van Loon family in 1884.
---
Fuzzy on the Details
Where is James Adair, UE, Assiniboine Branch?
James Adair, UE was at the Loyalist Plaque at the Manitoba Legislature building in Winnipeg, MB on June 1st. The U.E.L. Commemorative Plaque was unveiled by the then Winnipeg Branch on May 29, 1968, with an address given by the Lieutenant-Governor of Manitoba, Mr. R. S. Bowles. See Loyalist Plaque in Winnipeg Legislature Building for more details.
---
"Sanctuary!"
Where is Gov. Simcoe Branch member Nancy Conn?
The oldest part of this Old Walloon Church dates from 1493. In 1586, it was offered by the city to the Walloon Reformed community of religious refugees, French-speaking Protestants who had fled religious persecution in the Southern Netherlands and France. In January 1624, Jean Rapareille and Catalina Trico – two of Nancy's ancestors – married here before setting sail on the West India Company's first immigration and workers ship to New Netherlands. Services are in French; Nancy and Doug attended a service during their visit.
---
The Answer is Milling in the Wind
Where are Gov. Simcoe Branch members Doug Grant and Nancy Conn?
A UNESCO World Heritage Site since 1997, Kinderdijk is situated in a polder. To drain the polder, a system of 19 windmills was built around 1740. This group of mills is the largest concentration of old windmills in the Netherlands; they form one of the best-known Dutch tourist sites.
---
Pal O' Mine
Where is Nova Scotia Branch member Brian McConnell?
While in Ireland, Brian visited Clarke Square (formerly Palatine Square) and the Palatine Room at Collins Barracks (formerly Royal Barracks) in Dublin. Both were named after the Irish Palatines, many of whom emigrated to North America. Among them was his maternal 5th gr.-grandfather Michael Brethour. He was one of a number who remained loyal during the Revolution and were UE Loyalists.
---
Memorial to a Giant-Killer
Where is Gov. Simcoe Branch member Doug Grant?
Doug is standing in The Grote Markt ("Great Market Square") of Antwerp, situated in the heart of the old city quarter. Some of the many guildhalls are in the background. The Brabo fountain depicts a Roman Soldier – called Brabo – who is throwing the hand of a giant he had slain into the nearby Scheldt River. The giant whom Brabo slew had held the city ransom.
---
It Pre-Dates Helvetica
Where is Gov. Simcoe Branch member Nancy Conn?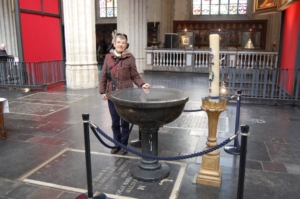 In Antwerp, Belgium, construction of the Cathedral of Our Lady began in 1352, and has never been completed. Within this church, which is probably best known for a number of works by Rubens, is this baptismal font. c1570, one of Nancy's Protestant ancestors Maria Boel was baptised here, most likely to avoid religious persecution. Might she have been baptised at this same font?
---
Planning All But The Weather
Where are Bonnie Schepers, Bicentennial Branch, and Sue Hines, Grand River Branch?
UELAC Past President Bonnie Schepers waits eagerly – it was a very cold March day – for the door of George Brown House to be opened while UELAC SVP Sue Hines is maybe not quite so eager to tackle the day's agenda – a semi-annual strategic planning meeting for UELAC Officers and Directors.
---
"Sometimes you eat the bear …"
Where is Col Edward Jessup Branch member Barbara Law?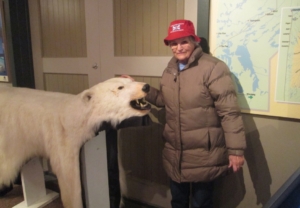 Barbara and husband Ken visited Churchill, Manitoba. The two pictures are from the side of the highway just outside Churchill and then at the Churchill Railway Station & Museum. We saw a lot of polar bears and other animals but none up close. We really enjoyed our time there and would recommend it.
---
Queen of the Desert
Where is Brenda Dougall Merriman?
With the promise of Spring in the air, it was tough to wait it out. Warmer climes beckon. The lush vegetation and the small table in the foreground offer clues; the camel (named Akawi) narrows the possibilities, but I didn't meet Akawi at the 2014 Toronto UELAC conference. In this case, it was Africa – more specifically, Marrakech, Morocco.
---
UK Trifecta
Where is Nova Scotia Branch member Brian McConnell?
Brian McConnell is sporting one of the new UELAC hats at the gravestone of Henry Magee – native Irishman, Ulster Scot and United Empire Loyalist – in Oak Grove Cemetery, Kentville, NS, on St. Patrick's Day (Mar. 17, 2017).
---
In Heritage We Trust
Where is Anne Redish UE?
Members of UELAC Dominion Council (Executive, VPs and Councillors) meet each year in the Spring. The first day (March 3 this year) is held at George Brown House, the home of the UELAC national office and one of the properties operated by Ontario Heritage Trust. Regional Vice President Anne Redish, a member of the Kingston ON Branch, drew the short straw and brought coffee.
---
Surely She's Thirty
Can you identify the celebrants, the reason, and/or the location?
On March 05 2017, the Vancouver and Chilliwack Branches gathered and posed for a photo in Chilliwack BC to celebrate the 80th Birthday of Shirley Dargatz UE. For some of her contributions, see her citation as the 2012 recipient of the annual Dorchester Award.
---
The Gold Rushton
Where are Michel Lewis and Pat Blackburn (Hamilton) with Peter Scandlan and Patricia Scott (Nova Scotia Branch)?
Recent Nova Scotia members Peter Scandlan and his aunt, Patricia Scott of Ontario, were presented with their certificates in Hamilton, ON on Feb 23, 2017. Ancestors are Jeremiah RUSHTON and his father, John RUSHTON Sr., Westchester Refugees to Cumberland County, NS. Thank you to Hamilton Branch for making the presentation.
---
Nova Charta
Where are (L-R) John Eaman, Ed Morrissey, and John Chard?
On April 20th, 1982 the Halifax-Dartmouth Branch received a new Charter from Association President, John A. Eaman at a ceremony held in St. George's Anglican Church which in 1995 was destroyed by fire. Mr. Edward Morrissey, President, accepted this Charter. In 2013, the Branch was renamed to the Nova Scotia Branch.
---
Fine Print
Where are Hamilton Branch members Martha Hemphill, UE; Gloria Howard, UE; and Pat Blackburn, UE?
Martha, Gloria and Pat are shown at the annual Heritage book fair in Waterdown.
---
A Grave Matter
Where are Carol Harding and Joe Munroe with other members of Nova Scotia Branch?
During a tour of graveyard at Old St. Edwards Loyalist Church in Clementsport, NS on Sept. 17, 2016 taken organized by NS Branch, Carol Harding (left) and Joe Munroe, members of the branch, examine one of the Loyalist gravestones. (Submitted by Brian McConnell.)
---
Yurt Up
Where are Doug Grant and Nancy Conn, Gov. Simcoe Branch?
While travelling on the Trans-Siberian Express route which goes from Moscow to Beijing, two days were spent in Mongolia. One night was off the train, either in a hotel in Ulan Bator or in a Yurt. Doug and Nancy chose the latter. It was hardly roughing it as had been expected in this camp of about thirty yurts. The wood stove made it warm and cozy in the evening, but it was chilly by morning. The scenery was rather spectacular in this valley between mountain ranges. Yurt camps are rather popular – four in this one photo.
---
Dearly Beloved
Where are Susan Hutchins (Bicentennial Br.), Ruth Nicholson and Jean Rae Baxter (Hamilton Br.), and Peter & Carol Davey (Kingston Branch)?
If the title isn't a dead giveaway, here's a second photo:
These photos were taken at the wedding of Jean Rae Baxter, UE, to Leigh Smith, on Oct. 22, 2016. The reception was held at Queen's University Hall, Kingston. Congratulations to Jean and Leigh from the UELAC!
---
Reach Out, Reach Up, Reach Forward
Where are Carl Stymiest and Mavia Pickett?
They are pictured supporting the Vancouver Branch outreach display at the B.C. Highland Games in Coquitlam, June 2016.
---
Hatt's On, Hatt's Off
Where are Hamilton Branch members Pat Blackburn, Ruth Nicholson, Paul Lewington, and Marilyn Hardsand?
The four Hamilton Branch members attended the re-dedication of the Cooley-Hatt Cemetery, Ancaster in Sept. 2016. This pioneer cemetery was saved from being part of a new housing development, mainly through the efforts of Rick Hatt of Niagara, a descendant of Richard Hatt. Note that Richard Hatt was not a Loyalist himself, but married the daughter of Loyalist Preserved Cooley.
(See Pat-Ruth-Paul-Marilyn-02-HQ.jpg" target="_blank">the plaque up close.)
---
Teachables
Where is Hamilton Branch member Ruth Nicholson?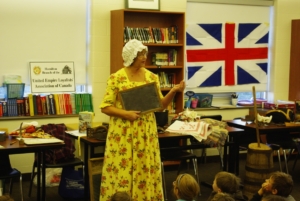 Hamilton Branch reaches out to schools and offers presentations to student classes. Ruth Nicholson made this presentation to 90 third-grade students at Guy Brown Public School in October 2016.
---
Beribboned and Certified
Where are Vancouver Branch Past President Carl Stymiest and Chilliwack Branch Genealogist Marlene Dance?
Each Fall the Pacific Region Branches UELAC celebrate the Landing of the Fall Fleet in 1782 in Nova Scotia which then included what a year later became the new colony of New Brunswick. Carl and Marlene are witnessing the presentation of Loyalist Certificates during the event which in 2016 was hosted by Chilliwack Branch.
---
For older submissions, visit the 2016 WITW archive page.