Where in the World are the members of the UELAC in 2018?
For the most recent submissions, visit the the main "Where In The World … ?" page.
2018 Submissions
Deep Shadow
Where is New Brunswick Branch member Malcolm Newman, UE?
Continuing on from "A Towering Figure" last week, the Moat at the Tower of London was filled with "Torch poppies" in early November 2018, to celebrate the 1918 Armistice. As the UK commemorated the centenary of the end of the First World War, an installation at the Tower of London, Beyond the Deepening Shadow: The Tower Remembers filled the moat with thousands of individual flames: a public act of remembrance for the lives of the fallen, honouring their sacrifice. See more at Tower of London and Best photos of remembrance memorial lights.)
---
A Towering Figure
Where is Gov. Simcoe Branch member Doug Grant?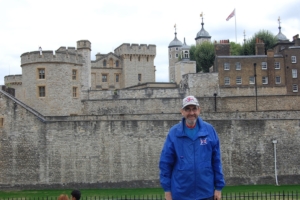 The Tower of London is a historic castle located on the north bank of the River Thames in central London. It was founded towards the end of 1066 as part of the Norman Conquest of England. The White Tower, which gives the entire castle its name, was built by William the Conqueror in 1078 and was a resented symbol of oppression inflicted upon London by the new ruling elite. The castle was used as a prison from 1100 until 1952, although that was not its primary purpose. The Tower has served variously as a royal residence, an armoury, a treasury, a menagerie, the home of the Royal Mint, a public record office, and the home of the Crown Jewels of England.
---
General (Soon To Be Admiral) Research
Where is Kingston & District Branch member Anne Redish, UE?
Hint: Anne is shown doing research on a Butler's Rangers ancestor in the building of a university named after a well-known British General; she was in old Grantham Township, Twelve Mile Creek, otherwise knows as … ?
Anne is at the Brock Loyalist Collection, Brock University, in St. Catharines, Ontario. Much of the information in the collection was donated by Friends of The Loyalist Collection at Brock University.
---
Permanent Marker
Where are Marilyn Hardsand, UE, of Hamilton Branch, and Bob Rennie, UE, of Grand River Branch?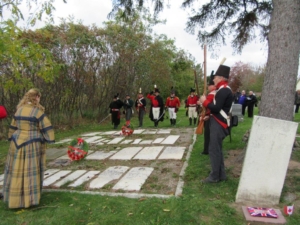 Bob and Marilyn participated in the War of 1812 Veterans Grave Marker Dedication at Bowman Cemetery, Ancaster, Ontario, on Sunday, Oct. 21, 2018. Bob is shown in his 2nd Lincoln Militia attire as he arrives, and again at the far end saluting. Other soldiers represented the 1st Oxford Militia, and the British Indian Department.
---
Bunny Sanctuary
Where is Victoria Branch member Fran Rose, UE, of Pender Island?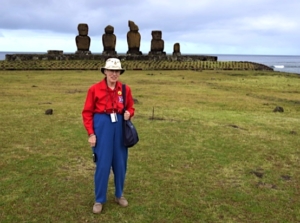 My husband and I travelled to Easter Island aboard the MS Maasdam. The sea was rough on the scheduled day, so our captain postponed our arrival by a couple of days, then made up the time later. I wore my UELAC shirt on Oct. 4, and Bob took several photos of me, including these two. Easter Island, a Chilean territory, is a remote volcanic island in Polynesia. Its native name is Rapa Nui. It is famed for its archaeological sites, including nearly 900 monumental statues called moai, built by inhabitants during the 13th-16th centuries. The moai are carved human figures with oversize heads, often resting on massive stone pedestals called ahus. The first picture shows the site Ahu Vai Uri, and the second shows Ahu Ko Te Riku – featuring restored eyes. (Learn more at Wikipedia.)
---
The "Abridged Mediterranean"
Where are Calgary Branch members Ivy Trumpour and Jack Twells?
Jack Twells and Ivy Trumpour, next to a cable car terminal adjacent to a medical centre in Medellin, Columbia, one of the most dangerous places in the world when Pablo Escobar leader of the notorious drug cartel had his headquarters here. The city has transformed into a modern city with transportation systems that give residents high on the hillsides access to schools, jobs and health care. In the second picture, Jack is standing at the site of the "jail" which Escobar built for himself. Next to Jack is Escobar's driver, who was on his day off when Escobar was captured and killed. He now drives a tourist bus.
---
The Crew's Nice
Where are Edmonton Branch President Robert J. Rogers, UE, his wife, Dorothy, and his brother David, UE, and wife Cathy, UE?
Robert, Dorothy, David and Cathy are pictured on the Lijiang River Cruise in central China.
---
Peace of Stone
Where are Elizabeth 'Betsy' Davidson and James davidson (of Gov. Simcoe Branch), Suzanne Davidson (Calgary Branch), and Allan Howard?
The MacLean Howard vault is in St. James Cemetery in Toronto. Finally after over 50 years the memorial panel bears names including Suzanne and James' grandfather (Betsy's father) Vaughan. There is a tablet above with his father and grandfather on it. The panel for Salome (MacLean) Howard UE (Vaughan's great grandmother) is across the road, about 75 feet away. She was a daughter of Archibald McLean from Fredericton, NB. Pictured are James, his sister Suzanne, their mother Betsy, and James' second cousin Allan MacLean Howard V. Allan has organized the work to update the panel.
---
This. Is. (Not.) Carthage!
Where are Calgary Branch members Ivy Trumpour and Jack Twells?
Ivy and Jack are pictured just outside the wall of the old city – and separately in the Interno Restaurant – in Cartagena, a major port on the northern coast of Colombia. The city was founded in 1533 and named after Cartagena, Spain, which in turn was named after Carthage in Tunisia. In 1984, Cartagena's colonial walled city and fortress were designated a UNESCO World Heritage Site. The Interno Restaurant, inside Cartagena's District Jail, provides training for women inmates in various trades of the restaurant business, equipping them with the necessary skills and tools to guarantee a job when they are released, to facilitate their resocialization and reconciliation with society.
---
United In Service
Where are Cathy Darbell and Vera Ash (Manitoba Branch) with Sylvia Pugh (Saskatchewan Branch)?
The 2018 UELAC Conference in Moose Jaw, SK, concluded with a church service on Sunday. These three ladies have almost completed the walk from the hotel to St. Andrew's United Church for the service and a lunch served afterwards by the church ladies. Then it was time for good-byes for another year.
---
The Lord
 

(

'

)

 

Sprayer

Where are Ruth Nicholson (Hamilton Branch), Jean Rae Baxter (Kingston Branch), and Dale Carle (New Brunswick Branch)?
At the 2018 UELAC Conference in Moose Jaw, SK, one of the bus groups visited a farm. At 8,000 acres, it was a whole lot larger than the 200-acre lots our Loyalist ancestors received and then set out to clear. Ruth, Jean and Dale were able to turn their attention from the larger-than-life sprayer behind them – see the sprayer boom stretching off to the right across the garage door – which comes with an equally larger-than-life price tag.
---
Moose Stash
Where are Marlene Dance (Chilliwack Branch), Lise Bruce (Little Forks Branch), Sgt. Steven Arens, Harvey Smith (Saskatchewan Branch), and Peter Milliken (Kingston Branch)?
At the UELAC Conference in Moose Jaw, SK, the opening reception was hosted by the Royal Canadian Air Force 15 Wing Moose Jaw at their base. Two airplanes were on display for us to examine more closely with steps and a platform beside each cockpit for a closer look. Some were just as curious about Sergeant Arens with his wonderful 'stache.
---
J'entends le (petit) quelque chose
Where is David Hill Morrison, of the Bridge Annex (Virtual) Branch?
David is at the Lost Villages Museum located in Ault Park on Fran Laflamme Drive, 3 kilometres east of Long Sault, Ontario, 6 kilometres west of Cornwall.
This is the train station for Moulinette, one of 12 villages and hamlets that were lost when the lands were inundated by the construction of the St. Lawrence Seaway in 1958.
David is in front of the original Moulinette train station, but it is no longer located in Moulinette; it is now on the higher and drier lands of Stormont, Dundas and Glengarry Counties.
David is wearing a Bridge Annex shirt. Bridge Annex is the newest Branch of the UELAC, unique in that it is virtual. He is on the executive of this new branch, whilst also being a member of the Grand River Branch executive.
---
Four Photos For Munchin' On
Where in the world did Loyalist Trails contributor Stephen Davidson visit a city with two memorials to a Massachusetts Loyalist?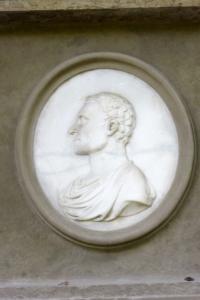 Munich, Germany – München to locals – has two memorials to Benjamin Thompson (aka Count Rumford). A Massachusetts Loyalist, Thompson was a scientist and inventor who returned to the US from England late in the war to raise a Loyalist regiment. He then spent his career in England, Germany and France. As a legacy for the USA, he provided funds to create a professorship at Harvard University. To learn more about this fascinating figure, read "Benjamin Thompson, Loyalist Scientist" in the Loyalist Trails archives.
---
Water Babies
Where are Peter Milliken (Kingston Branch), Bob & Grietje McBride (Kawartha Branch), and Carl Stymiest (Vancouver Branch)?
A highlight of the 2018 UELAC conference in Moose Jaw SK was spending time at the hotel in the spa with its naturally heated mineral baths similar to the ones in Banff, British Columbia, and Bath, England. Here Peter, Bob, Grietje and Carl enjoy the 97°F mineral waters piped in from natural hot springs a mile away.
---
A Well-Red Fellow
Where is Bay of Quinte Branch member Peter Johnson?
Peter is not only the President of Bay of Quinte Branch and Dominion Co-Genealogist (with Angela Johnson), he is also a reenactor with the recreated King's Royal Yorkers. For the Banquet at the UELAC Conference, Peter wore this uniform. He notes: "The uniform is that of a musketman, 2nd Battn. King's Royal Reg't of NY. The 2nd Battn was always clothed in red, but the 1st Battn having been formed earlier started out in green and switched to red. The 2nd Battn officer's uniform of Lt. Jeremiah French, UE, is at the War Museum in Ottawa. It is the only known surviving uniform from this regiment."
---
Jetting West
Where is Kawartha Branch member Bob McBride, UE?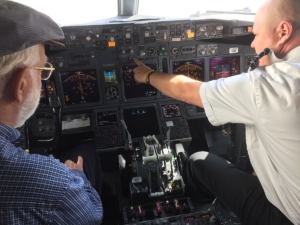 On the way to Moose Jaw for UELAC Conference 2018 hosted by Saskatchewan Branch, the West Jet plane from Toronto landed in Regina, the end-point of our flight. As everyone was getting off, I was invited into the cockpit by the pilot. He sat beside me and explained all the plane's instruments, ending with, "Well, now that you know how to fly this airplane, are you ready to take off?"
---
Here I Passed
Where is David Hill Morrison, a member of Grand River Branch and the Bridge Annex Branch?
David is standing on the snowmobile bridge over the French River, just below the French River Visitors Centre, facing east. The plaque above the trail says, in part: "Here passed: Brûlé, discoverer of Lake Huron; Champlain, 'Father of New France'; the Jesuit martyrs, Brébeuf and Lalemant; the colourful coureurs de bois. Radisson and Groseilliers; La Vérendrye, pioneer explorer of the prairies; Mackenzie, first European to reach the Pacific by land north of Mexico; Thompson, the great explorer and cartographer."
---
Gaol break!
Where are (front row, L-R) Diane Faris, Mary Anne Bethune, and Carl Stymiest of Vancouver Branch, with (back row) James Adair of Assiniboine Branch?
Traditionally at the UELAC Conference just preceding the gala banquet on the Saturday evening, there is a parade of those people who are wearing Loyalist period clothing. Gathered here just before the 2018 parade in Moose Jaw SK, these four who are regular attendees each year, wait patiently. James lives the closest in the Prairie Region. Diane, Mary Anne and Carl, all from the Pacific Region, had a longer trek.
---
Tracked, or … ?
Where is Suzanne Davidson, Calgary Branch?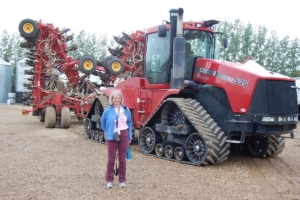 One of the bus trips on the Friday afternoon at the UELAC Conference in June in Moose Jaw, hosted by Saskatchewan Branch, took in a farm – a fair-sized one, at 8,000 acres. Suzanne takes in the tractor – 600+ horsepower, with cultivator and air seeder, and a price tag to match! She wanted to drive it home but decided in the end it was a bit of overkill for her vegetable garden.
---
Anachronism Or Two
Where are Diane Reid, Andrew Fleming and Linda Young of Toronto Branch?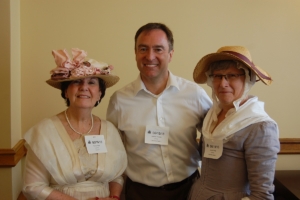 Following the commemoration and Loyalist flag-raising on Loyalist Day 19 June at Queen's Park in Toronto, the attendees gathered indoors for a reception. Linda (right) represented the Loyalist era in her clothing and Diane (left) the centenary of the end of the Great War in her 1913 attire. Without having to change his duds, Andrew is modern day.
---
At The Regal Cockney Toupée Comedy
Where are Carol and Peter Davy, of Kingston and District Branch?
At the UELAC Conference in Moose Jaw, SK, the opening reception was hosted by the Royal Canadian Air Force 15 Wing Moose Jaw at their base. As well as being the home of the Snow Birds, the base is a training facility. Carol and Peter were among those who took the opportunity to visit a hanger where a pilot explained details of each of the two planes on display.
---
Man Of Many Syllables
Where is David Kanowakeron Hill Morrison, UE, of Grand River Branch, with Carl Stymiest, UE, and Mary Anne Bethune, UE, both of Vancouver Branch?
At the 2018 Saskatchewan UELAC Conference in Moose Jaw, SK, David Kanowakeron Hill Morrison was awarded the 2018 Dorchester Award. The UELAC Pacific Region, of which Vancouver Branch is a part, nominated David for this prestigious award for exemplary volunteer service to the Association.
---
Sign Language
Where is David Hill Morrison, a member of Grand River Branch and the Bridge Annex Branch?
David is at the Gchi-Waaswaaganing rest stop on Highway 17 in Marathon, Ontario, on June 14, 2018. The name means "Big Torch Light" in Nishnaabemowin (the language of Anishnaabek). David is wearing the new Bridge Annex shirt — he is Vice President of the new virtual branch as well as a member of Grand River Branch. This rest stop is roughly 200 kilometers from where Terry Fox ended his Marathon of Hope (outside Thunder Bay).
---
Lord & Lady of Hosts
Where are Pat and Gerry Adair, of Saskatchewan Branch?
Pat and Gerry Adair hosted the annual UELAC conference in Moose Jaw, Saskatchewan. Here, on the way to the closing church service, they stand before the entrance to Crescent Park, a "jewel of the Prairies." Encompassing 28 acres, more than six city blocks, the original plan dates to 1911. The Cenotaph, or Cross of Sacrifice, the World Wars memorial, was unveiled here in 1923. Further development of the park was a relief project, funded by the federal government, to provide work for people during the Depression. The project employed up to 200 men, working for 25 cents a day plus a meal ticket.
---
The Grand Mackinac Spoiler Alert
Where are Ruth Nicholson and Louise Ferris, of Hamilton and Bicentennial Branches?
At the Grand Hotel on Mackinac Island, on the way to Moose Jaw SK for the UELAC Dominion conference hosted by Saskatchewan Branch. In 1886, the Mackinac Island Hotel Company purchased the land on which the hotel was built and construction began. Billed as a summer retreat for vacationers who arrived by lake steamer and by rail from across the continent, the hotel opened on July 10, 1887 and took a mere 93 days to complete. At its opening, nightly rates at the hotel ranged from $3 to $5 a night. See also grand-mackinac-3-HQ.jpg" style="color:#fafafa;" target="_blank">the hotel plaque.
---
Everyone Falls For South America
Where is Col. Edward Jessup Branch member Barb Law?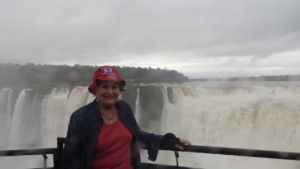 On part of our South America and Antarctica trip, we visited Iguazu Falls – one of the 7 New Wonders of Nature – on the Argentine side (the river flows through Brazil for most of its course, but the falls are mostly on Argentinian land). The falls itself is about 2 kilometres wide with many islands dividing the river so there are more than 250 different waterfalls now. The park has walkways which permit good views of most of the falls now without entering the river, but getting wet is another story – the spray was worse than Niagara Falls! It became a National Heritage Park in October of 1934, and has been desginated a World Heritage Sites by UNESCO.
---
Catching Up To Hubby
Where is Gov. Simcoe Branch member Nancy Conn?
When in Moscow, at least one stop in Red Square for the Kremlin and this St Basil's Cathedral, which is now a museum. The original building, known as Trinity Church and later Trinity Cathedral, contained eight churches arranged around the ninth, central church of Intercession; the tenth church was erected in 1588 over the grave of venerated local saint Vasily (Basil). The building is shaped like the flame of a bonfire rising into the sky, a design that has no parallel in Russian architecture. Look familiar? Doug Grant was spotted at St. Basil's in 2016.
---
Not the Church of the Holy Fox
Where are Nova Scotia Branch members Jill Mattinson, Alma Hayward, Ruth Coker and Brian Coker?
Inside historic St. Paul's Church in Halifax where Loyalist Bishop Charles Inglis and other Loyalists were buried. The branch toured the church as part of a recent meeting. It is the oldest Protestant place of worship in Canada opened in 1749 by proclamation of King George II. The original frame of church was built in Boston and transported to Halifax for assembly.
---
A Banner Year
Where is Sir Guy Carleton Branch member Holly MacDonald?
Sir Guy Carleton Branch often combines their meetings with a lunch. Holly, who joined recently, is working towards her Loyalist Certificate. Her mother, Ruth MacDonald of PEI, is a longtime member and a past president of Abegweit Branch.
---
'CTOΠ'
Where is Gov. Simcoe Branch member Nancy Conn?
On a recent opera tour to Moscow, Nancy's group stayed in the Metropole Hotel (seen in background at edge). They attended an opera in the recently restored Bolshoi Theatre (seen in background at centre). Both are situated only a couple of blocks from the Kremlin. In the Russian Cyrillic script, a "C" is pronounced like our "S". Although it is neither octagonal nor red, even we can read the STOP sign just behind her (the last letter, which is cut off, is like the Greek pi.
---
The Kings' New Feathers
Where is Col. Edward Jessup Branch member Barb Law?
After the Antarctic, we finally get up and close with the penguins in the Falkland Islands – pictured are king penguins (we also saw emperor penguins). The white material on the ground is baby penguin feathers; the babies lose their feathers at this time of year. They are up on the grass as they are not yet ready to swim.
---
Forever Young
Where is Toronto Branch member Michael Young (at right, in uniform)?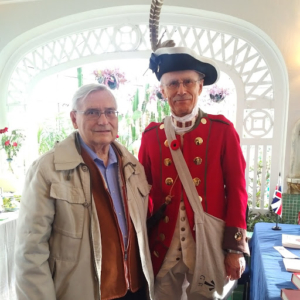 Photo taken at Heintzman House in Markham, Ontario, in November 2017: Toronto Branch has a table at their annual Craft Sale. Mike is dressed in a reproduction of a British Indian Department uniform. Heintzman House is one of the oldest building in Thornhill-Markham. It features the earliest mudhouse in the province. In 1798 this property was awarded to Anthony Hollingshead, a United Empire Loyalist. In 1817, possibly upon the death of Anthony, the Hollingshead family sold the property to the Honourable George Crookshank of York (Toronto). George, the son of a Loyalist, transformed the farmhouse into a 13-room mansion.
---
The Coolest Aunt
Where is Col. Edward Jessup Branch member Barb Law?
On a cruise in early 2018, we visited Antarctica. We were surprised to see so many mountains, most of them covered in snow and ice, with lots of glaciers. We couldn't get over the size of some of the icebergs, The one on the right of the second photo is so big that you could put at least 4 or 5 hockey arenas on top of it and not fill the space; others were way taller than our ship. Some were covered in penguins or seals getting some sun.
---
¡Buen provecho!
Where is Kingston Branch member Nancy Cutway UE, with her husband Steve?
Early European explorers and settlers arrived in the Americas not many years after Columbus's four voyages. In Lima, Peru we toured church and monastery built by Dominican friars in 1549, and had a fantastic meal in the Casa de Aliaga which "is the oldest Colonial mansion in Lima, maybe even in whole South America. The house has been owned and lived in by the Aliaga family and their descendants since Franzisco Pizarro granted the land to Jerónimo de Aliaga in 1535 – 16 generations. The family still inhabit part of the mansion.
---
Ship-Shape
Where is Col. Edward Jessup Branch member Barb Law?
While on a cruise, we visited the Nao Victoria Museum in Punta Arenas, Chile, where they have 3 full size replicas of ships. The one in these photos is Ferdinand Magellan's ship, the Nao Victoria; the other two were Charles Darwin's ships, the HMS Beagle and the Ancud.
---
Training For Travel
Where is Kingston Branch member Nancy Cutway UE, with her husband Steve?
On a cruise, we transited the Panama Canal west to east, i.e. from the Atlantic to the Pacific, which takes about 9 hours, and our ship, M.V. Sirena of Oceania Cruise Lines, anchored at Balboa. The next day we visited by bus back across the isthmus to the new Information Centre for the 3rd lane of the canal which will accommodate Neopanamax freighters. Here we are boarding the Panama Canal Railroad for the return to Balboa.
---
Snowbird on the Rich Coast
Where is Sir Guy Carleton Branch member Sylvia Powers?
To get away from Ontario winter, Sylvia vacationed at the Hotel Coco Beach near Manuel Antonio in Costa Rica in January. Manuel Antonio is a small oceanside village. Manuel Antonio National Park is often considered among the most biodiverse parks in the world. Spanning several natural habits, it boasts more than 109 different species of mammals and 184 species of birds. You can spot white-faced and howler monkeys, two-toed sloths, and the endangered squirrel monkey.
---
Big Bruddha
Where are Gov. Simcoe Branch members Doug Grant and Nancy Conn?
In Thimphu, the capital of Bhutan, high on a hill in a park is a statue of Buddha, supposedly the largest seated statue of him in the world. Around it are numerous smaller statues; like Buddha they are made from bronze and gilded in gold. We visited here near the end of a group tour visit to Bhutan and nearby Nepal.
---
Making (No) Tracks
Where is Nova Scotia Branch member Dianne Hancock, UE?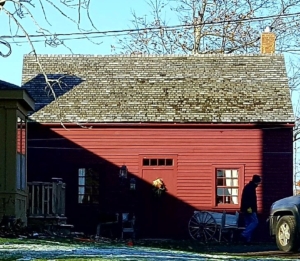 Dianne Hancock UE stands beside St John's Anglican church, Port Williams, Nova Scotia – the church of her ancestors and over 200 years old. She has her foot on the iron boot-scraper from the old meeting house (click for a better look full-size). (Read more about the church from waymarking.com.) Photo #2: The original Old Meeting House of Port Williams, NS. Built 1770 for Cornwallis Anglican Parish (established in 1760), it was moved down the road a bit when the church was built, and services started ca. 1810. The meeting house is still intact, now used as an Antique Store.
---
All You Need Is Company
Where is Gov. Simcoe Branch member Doug Grant?
On a Canadian group tour to Bhutan, we visited numerous temples. This was a boys' school, reusing an old royal palace, to the east of Trongsa in Central Bhutan. Little went to waste; the school reused/re-purposed lots of items and recycled the rest. The white board on the wall outlined a standard but very full day's program, from early in the morning through mid-evening. We visited the dormitory; very spartan with a mat to sleep on. It appeared that each child's worldly goods would fit into a small backpack.
---
Certified Loyal
Where are Jill Mattinson, UE, Carol Harding, UE, and Dianne Hancock, UE, of Nova Scotia Branch?
The presentation of Loyalist certificates by Carol Harding (centre) was made in the old Kings county courthouse which is now the upstairs of the Kings County Museum in Kentville, NS. It has fabulous woodwork and a few interesting art pieces too. There is a basement too; possibly the gaol at one time? Diane Hancock's (right) UEL ancestor was Hugh Pudsey; Jill's was Joseph Denton. Submitted by Carol Harding.
---
Beloved House
Where is Gov. Simcoe Branch member Nancy Conn?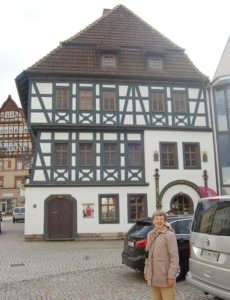 One stop on the Luther Trail, The Lutherhaus in Eisenach, Germany is one of the oldest and loveliest half-timbered houses in Thuringia. It is a European cultural heritage site in Eisenach, Martin Luther's "beloved city." Luther is supposed to have lived in this house as a schoolboy from 1498 to 1501. This is memorialized by the famous "Luther rooms" from 1356, which have been one of the most famous sites commemorating Reformation history since the 19th century.
---
Fully Booked
Where is Gov. Simcoe Branch member Jo Ann Tuskin?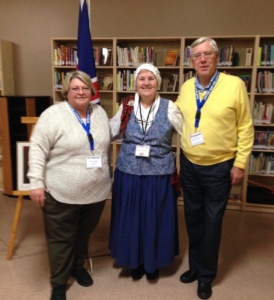 Jo Ann has done twenty or more presentations about the Loyalists in several of the recent years, mostly to grade 3/4 or 6/7/8 classes of students in the Greater Toronto Area. She has been invited also to speak to Senior's Groups and Service Clubs. London and Western Ontario Branch UELAC asked her to address them at a regular meeting on Nov. 14, 2017. She is pictured here with Branch President Carol Childs and Treasurer Jim Stewart – who just happens to be a 3rd and 4th cousin.
---
For older submissions, visit the 2017 WITW archive page.